Advertising on CanadianISP.ca
Why advertise on CanadianISP ?
The single, biggest reason for advertising on CanadianISP is the traffic. It's not the millions of visits we get per month (we don't get millions per month) - It is the fact that ALL the visitors to this website are highly focused traffic: They are here for one thing and one thing only: To look for, compare and select an Internet Service Provider. Our visitors are not looking for gardening advice, they are not looking for financial products or a new car. The tight focus of visitors to CanadianISP tells you a lot about not only the types of people who visit the website, but more importantly, their mindset when they do so.
This means, of course, that we do not accept ads for car dealers, banks, health products or, frankly, anything not related directly to the IT and ISP industry. The reason is simple: They would generate very low interest and therefore very low effect.
Traffic numbers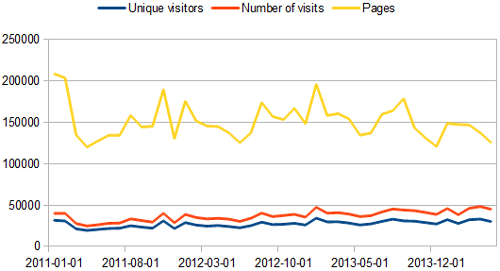 CanadianISP.ca went live on Friday, June 14th, 2002.
Traffic to the site has consistently grown larger, year after year.
At present, CanadianISP averages 32,000 unique visitors per month, making an average of 47,000 visits per month and viewing an average of 136,000 pages.
What this means is nearly two visits per visitor (return visitors are good) and the average visitor is viewing at least three pages per visit (viewers are engaged with the site)
To date, we are at over 3,500,000 searches for ISPs and over 210 ISPs listed on the site from coast to coast in Canada. CanadianISP is promoted on Facebook, Twitter, LinkedIn, Google and many, many other websites. We are also regulars within the DSLReports.com web community. CanadianISP is linked to by thousands of other sites on the 'net - from people sharing a link on a better deal in private email to provincial and federal pages listing ISPs by province, county or city.
Listing an ISP on CanadianISP, just like using it, is completely free of charge. There are no "catches" to listing on CanadianISP. All ISPs have access to real-time traffic data on the site - including the custom-tracked searches by province, city, service type, residential and business searches. We also track the total numbers of searches, the number of times all ISPs detail pages have been viewed as well as how often they are clicked through to their own company pages.
These tools prove invaluable to ISPs in planning service area and type expansions and support, as well as an element of competitive data to learn who is doing better than they are.
ISPs who have never advertised on CanadianISP receive a 50% discount to any and all services up to six months - This is testament to our confidence in just how effective ISP advertising on CanadianISP is.
Our rate sheet is available here and custom pricing for large or complex campaigns are available upon request.
Last updated: July October 6th, 2014
Copyright © 2020 CanadianISP.ca / Marc Bissonnette, Ontario - All rights reserved -